- THE WORLD -
 Discover the world of Arabian Oud
 Discover the world of Arabian Oud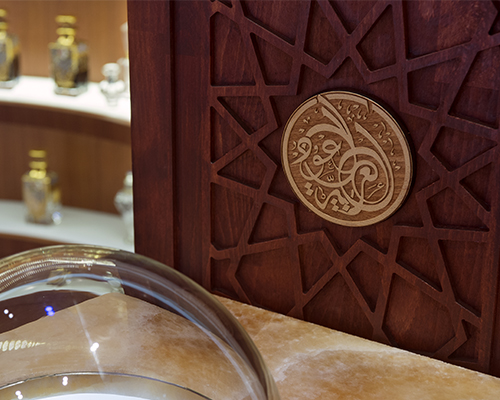 As the world's largest supplier of Oriental fragrances, Arabian Oud is committed to using only the finest oils and ingredients. We combine them to create evocative fragrances that take our customers on a journey to where East meets West; where pomp and tradition combine with creativity and contemporary luxury. Arabian Oud is an international brand with 900 points of sale across 35 countries worldwide. Because we adhere to the same high standards when choosing our sales locations and our raw materials, we have set up our flagship stores on the Champs-Élysées in Paris, Oxford Street in London, Times Square in New York and in 38 stores in Dubai, in the country's most prestigious shopping centers.
Each of our stores is designed to showcase our exceptional fragrances in a luxurious, immersive sensory experience. Customers are greeted by the signature scents of pure natural oud, then taken on an irresistible olfactory journey by advisers who share their passion for fragrances and knowledge of ingredients. Our in-store employees are trained by Cinquième Sens – a specialist olfaction company that has developed a world-renowned technique for finding an individual's perfect fragrance. Our mission, therefore, is not only to help customers find the ideal fragrance – whether for themselves or their loved ones – but also to ensure that each of them receives special personal treatment during their visit.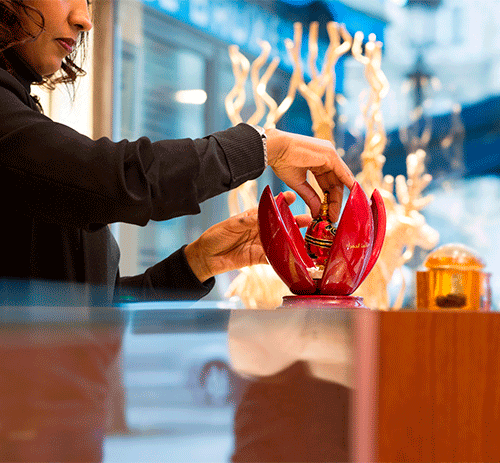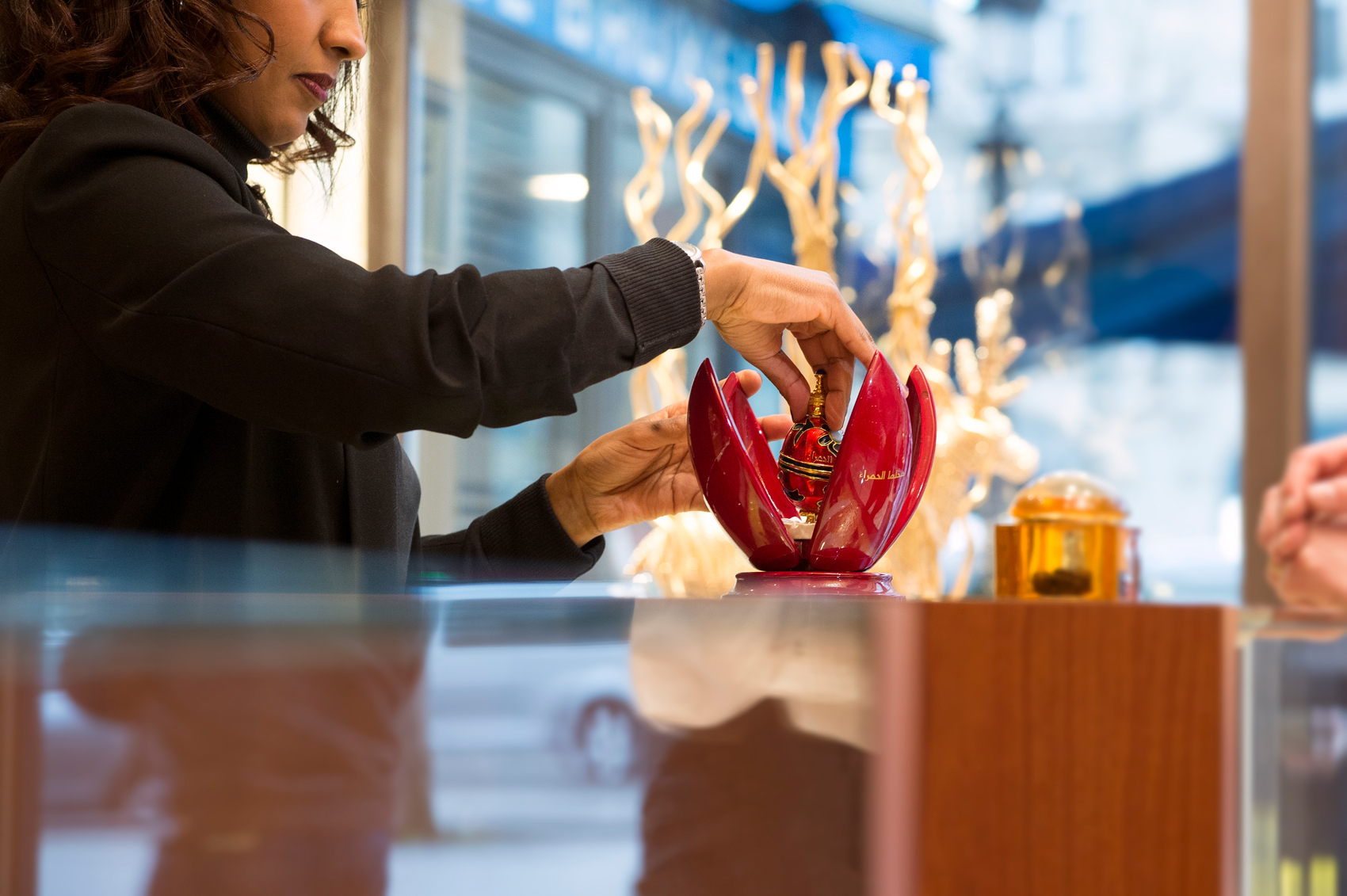 Our oud resin creates the unforgettable signature fragrance that greets every customer visiting our stores. With its combination of olfactory power and unique natural fragrance, this ingredient is considered as the key component of the perfumer's palette. It takes several years to obtain this dark resin secreted by the trunk and roots of centuries-old trees of the genus Aquilaria native to Southeast Asia. As only 7% of these trees produce the precious resin, yields are low. 70 kilos of wood is required to extract 20 ml of pure oud oil, establishing it as one of the rarest natural resources in the world. We are committed to protecting the environment, and seek to ensure that our oud harvest, which is vital to the survival of local communities in Cambodia, India and Brunei, adheres to sustainable development criteria. Thanks to an initiative launched by our founder, we plant more than 75,000 oud-producing trees every year to ensure that future generations will continue to benefit from this age-old traditional fragrance. In addition, we carefully select the sourcing regions and oud harvesters we work with. Chosen for their ability to identify trees of the genus Aquilaria that produce the precious resin, they select only the finest oud woods. Oud is a key note in many of the brand's signature fragrances, but we also offer pure oud to our customers in the form of oil, incense and wood chips.
EXCEPTIONAL ORIENTAL FRAGRANCES PRESENTED IN SUPERB PACKAGING
With total attention to detail for each creation, our team of world-famous perfumers craft exceptional oriental fragrances presented in superb packaging. Blends of timeless Arabic incense to perfume the home, pure oud oils of premium quality, modern Oriental-style fragrances in atomizer format: each of the 400+ products in the Arabian Oud portfolio is the fruit of a world-renowned alchemy. In addition to its extensive range of fragrances, Arabian Oud also crafts unique creations for international celebrities and members of royal families. Many Arabian Oud fragrances have already won prizes at the FIFI Awards, the "Oscars" of the fragrance world.
Resala
Resala is an expert interaction between tradition and modernity, combining aromas of dark chocolate and heady notes of oud with a gentle vanilla sillage. This luxurious unisex fragrance is presented in a playful bottle in the form of a quill and inkwell.
Tarteel Silver
Winner of the Arabian Prestige 2017 award in the Male category, Tarteel Silver combines the velvety smoothness of vanilla and the intoxicating scent of jasmine with citrus notes such as bergamot. Tarteel Gold, on the other hand, presents spicier saffron notes complemented by a generous oud and musk sillage.
Madawi
The winner of FIFI's Arabian Prestige Award 2016 in the Female category, Madawi evokes the exuberance of youth through a gentle exhalation of peach and orchard tree blossoms which then gives way to a sensual yet seductive heart with musk and wild rose notes.
OUD: THE MOST SOUGHT-AFTER INGREDIENT IN THE PERFUMER'S PALETTE
Although the scents of our fragrances and Oriental blends can now be experienced in the streets, restaurants and luxury hotels of Paris, the Arabian Oud success story began in a small boutique selling refined fragrances in the former Alzal souk in Riyadh, Saudia Arabia – the brand's birthplace. It is said that oud – the most sought-after ingredient in the perfumer's palette – was the first pure incense discovered by Man. Its signature woody scent, evolving and transforming throughout the day, holds cultural significance in many ancient and present-day civilizations. Today, Arabian Oud is an international brand that combines the creativity of Western perfumery with the richness of Oriental fragrances while continuing to honor the traditions specific to its ingredients. Each of our activities is a reflection of our constant commitment to offering only the finest oils and fragrances.
We have introduced the world of Oriental fragrances to a worldwide audience
Arabian Oud is Saudi Arabia's largest perfumer, and the first Oriental fragrance brand to establish itself in Western countries. The company has more than 900 sales points in prestige locations in 35 countries, including the Champs-Élysées in Paris, Oxford Street in London, Times Square in New York and in the most prestigious shopping centers in Dubai. The demand for our unique fragrances and our exceptional customer service is constantly on the rise. It is therefore our intention to meet this demand by continuing our expansion in prestige locations.
Arabian Oud has always stayed faithful to its goal: To produce oils and fragrances of incomparable quality, using the finest raw materials. We are proud of the fact that our work continues to be recognized through multiple industry awards. Our most remarkable recent successes include two awards at the 2017 edition of the Fragrance Foundation Arabia awards – the "Oscars" of the fragrance world – in the Arabian Prestige Male and Arabian Prestige Female categories.
Fragrance Foundation Arabia Awards 2017
Niche Fragrance Retailer Of The Year Arabian Oud
Fragrance Foundation Arabia Awards 2016
Arabian Prestige, Male
Signature
Arabian Prestige, Female Fatenah
Arabian Prestige, Male
Tarteel Silver
Arabian Fragrance, Male
Kashmir
Arabian Prestige, Female
Madawi
Arabian Popular Appeal, Male
Solid Black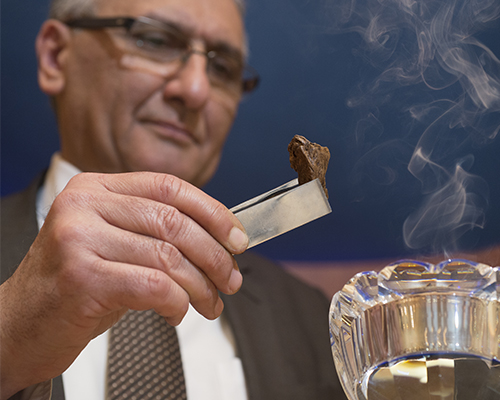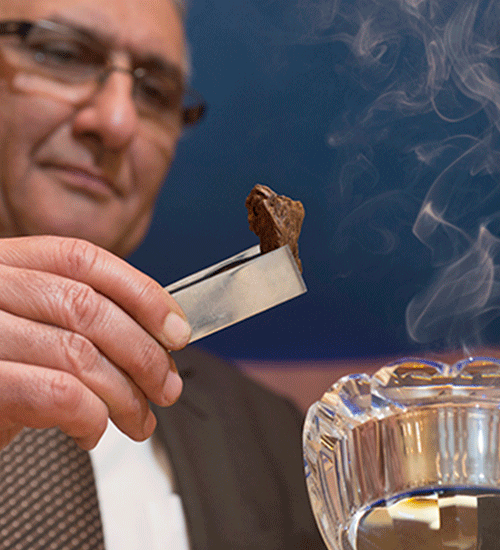 Our mission is to produce the best oils and fragrances in the world. That's why every interaction with Arabian Oud must reflect the quality and sophistication of our products.
When customers walk into one of our stores, they are entering a place of opulence in which myths and traditions meet contemporary luxury; where East and West combine with sensuality; where we can share our passion for quality.
Our advisors deliver the best possible buying experience, sharing their in-depth knowledge of the art of perfumery and the secrets of the exotic aromas known only to insiders. Every customer always receives special personal treatment.
The current status enjoyed by Arabian Oud – the world's leading supplier of Oriental fragrances – is entirely the result of the vision and dedication of Sheik Abdul-Aziz Al Jasser.
The Sheik launched Arabian Oud in 1982 with an initial investment of $1,360 provided by his friends and family. At that time, the sum was sufficient to open a small boutique in Riyadh's former Alzal souk.
In his early years in business, the Sheik traveled the world to perfect his art and cement lasting relationships with our oud harvesters in Asia. When the exceptional quality of his oils and fragrances started to attract public comment, the enthusiasm for oud convinced the Sheik that there was untapped international demand. On the strength of these first two years of success, Sheik Al Jasser was able to finance the ambitious world expansion that continues to this day, introducing the finest Oriental fragrances to the most prestigious Western locations. Today, Arabian Oud is a brand known to everyone across the Middle East and Asia.